I noticed the other day that the Moroccan tourist board have launched a new ad campaign promoting winter sun holidays in Marrakech. I've heard people gush about Marrakech but I have to say that I can't help wondering whether the buzz about this Moroccan city is really a case of The Emperor's New Clothes? I'm a hardy traveller so it takes a lot to phase me. But Sharps and I were constantly shouted at and harassed in the street. I was fully expecting to engage in some haggling (something I'm more than happy to indulge in, given I love a good bargain) but on every corner people tried to rip us off.
And in Marrakech's main market square (Djemaa el Fnaa) – the gateway to Marrakech's souk and in itself pretty hectic and stressful – we were surrounded by a group of hostile snake charmers who made Sharps pose for a photo then tried to force us to a cash point to give them 30 Euros – we had already given them a generous tip for the privilege.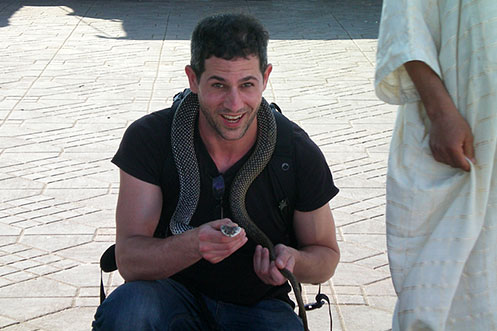 You might be wondering in that case why I've bothered to include it in my hidden gems? But in all my years of globetrotting it's very rare I come across a place I can't find something good to recommend about it. And as far as I could see, when it comes to Marrakech, the reason to go is Les Borjs de la Kasbah. If you want to escape the mayhem of the souks then Les Borjs de la Kasbah, a gorgeous boutique riad-style hotel tucked away in the kasbah quarter of the old medina, is the perfect antidote to the madness. From the moment you step inside this hidden gem it feels as if you've entered an oasis of calm.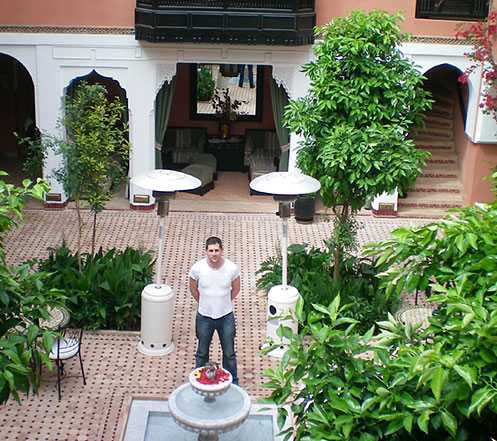 On arrival we were led into a courtyard where we were served mint tea and a selection of Moroccan pastries before being shown to our room. There, we discovered rose petals strewn across our bed – a lovely little touch – and we were also pleased to find we had a gorgeous, spacious bathroom.
If you're after some winter sun, or fancy topping up your tan year-round, the kasbah has its own pool. This makes it the ideal place to unwind as you don't have to venture outside of the haven that the hotel provides.
Les Borjs also has its own spa which includes a traditional hamman (a steam bath that involves having hot and cold water chucked over you, then being scrubbed and massaged which was heavenly and much nicer than it sounds!) that's well worth a visit and was the highlight of our stay in Marrakech. Feeling invigorated we were ready to face the challenge of leaving the hotel… for the airport.
You might also like