I'm a huge fan of spicy food and the hotter the better. But when it comes to eating out Indian cuisine usually ranks at the bottom of my list – I find it has a tendency to be quite heavy and oily. So when I was invited for dinner by the PR of Carom, a new Indian restaurant in Soho, it was my chance to win some extra brownie points with Sharps as he loves Indian food.
Carom in Soho is housed at Meza, 100 Wardour Street, so just make sure that when you arrive you don't end up getting confused and going downstairs to La Floridita (owned by the same company) by mistake. The newest addition to the D&D London restaurant group's portfolio (Skylon, Coq d'Argent and the Blueprint Cafe are among some of their other restaurants), Carom only opened on 1 November but already the Meza lounge bar area was teeming with people at around 7.30pm. We began our evening with a drink in the bar (actually, Sharps did as he had to wait for me as I was running a bit late) before being led through to the restaurant at the back.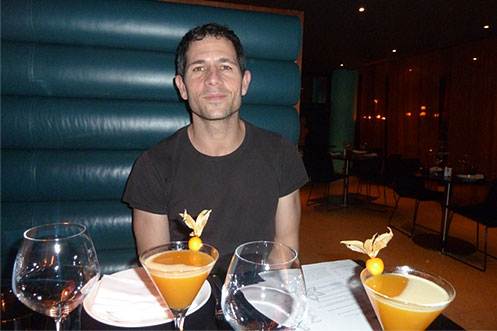 The sleek decor and floaty red and gold fabrics gave Carom a distinctly Indian vibe but made us feel as if we were in a nightclub as opposed to a restaurant. And with house tunes pumping out in the background the atmosphere was quite young and casual – more somewhere you'd come to eat with a group of friends rather than for an intimate dining experience. While we were deliberating over the menu a waitress brought us a couple of Carom's signature cocktails, which combine alcohol with Indian spices. Vibrant orange, and bursting with flavour, our Passion fruit chutney martini consisted of a vodka base to which home-made chutney, passion fruit pureé, sugar, lemon juice and chilli were added. It was a taste sensation. First you're hit with the sweetness of the passion fruit. This is swiftly followed by the sourness of the lemon (it actually tastes a bit grapefruity) before the heat of the chilli kicks in. This was definitely our winner of the cocktails (although it's not currently on the menu and is about to be added) but we also sampled two of the most popular signature drinks. The Bangalore cooler (£6.50) – Amrut Indian single malt whisky shaken with coriander, cardamom, pear purée and maple syrup – is definitely one for the guys. And without appearing too sexist the Buddhatini (£6.50) is probably more of a lady's drink as the combination of saffron gin, dry vermouth and orange bitters with mango purée and cumin is quite sweet.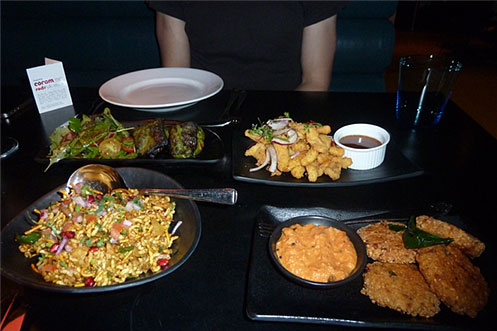 Next came the hard part, trying to decide what to choose. The concept of the restaurant is based on sharing, so the idea is that you pick a selection of dishes in a sort of tapas-style way of eating, depending on how hungry you are. The favourites and tandoor listed on the menu are the equivalent to starters. Then there are curries, sides, breads and rice as well as the usual accompaniments including popadams. In the end, because everything sounded so good, we asked the incredibly helpful staff for their recommendations.
I'm extremely glad we did because they chose dishes I would perhaps have otherwise missed, such as the salmon tandoor (£9). As I don't eat meat, I generally avoid the tandoor section, finding the fish on the whole to be quite dry and in need of a sauce. But coated in mint, coriander and lime leaf, our two chunks of charred, green-coloured salmon were soft and succulent. So don't be fooled by their slightly unappetising appearance. We also tried the lentil fritters (£5), which would have been quite hard and a little bland were it not for the smooth and tangy onion chutney (the ingredients of which also include tamarind and tomato giving it a reddy colour) that accompanied them.
But we both agreed that the highlight in terms of the starters was the bhelpuri (£4), a colourful puffed rice salad (similar in texture to Bombay mix) combined with a kind of glaze that infused the dish with the sweetness of tamarind, onions, tomatoes and pomegranate. Cardom's head chef, Bala Balachander, who previously worked under chef Atul Kochar at his Michelin-star Indian restaurant Benares, told us that the theme of his cooking is homestyle Indian food. His aim is to produce the sort of dishes he ate while he was growing up, but toned down for the more Western palate (so in other words not quite as spicy). The influence for the bhelpuri is central India – it's one of the most popular and authentic Indian street foods there – and his menu as a whole reflects the different styles of regional Indian food.
For the main event Sharps had the lamb kebab (£8) which was marinated with papaya, pepper, cumin and garam masala then left overnight and cooked in the tandoor. Sharps said his lamb was tender and he could detect a hint of charcoal and a lick of citrus. He also tried the beef sukha (£9.50), a south Indian influenced dish flavoured with  Goan spices and mellowed down with coconut milk, which was probably his least favourite dish. In the ethos of Cardom, we shared the mixed vegetable dumplings (£8), which had been fried then simmered in a caramelised onion sauce, with the addition of cashew nuts which gave it an almost gravy-like texture. The lentil speciality (£6), black lentils cooked slowly overnight on the top of the tandoor, reminded me a little of Mexican black beans. Plus we had a portion of baked pilau rice (£3) and a selection of Tandoor Indian breads (£4) – I particularly liked the garlic bread which had big chunks of garlic in it.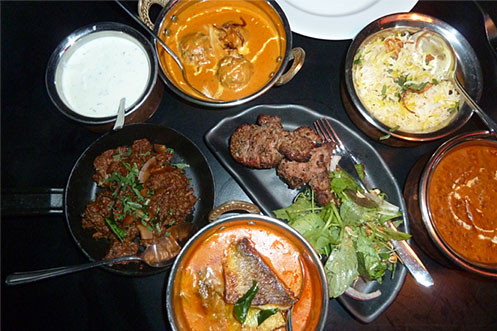 But the star dish of the night for both of us (and the chef's personal favourite too) had to be the sea bass Kerala (£10), a coastal fish curry cooked with curry leaf, mango and a coconut ginger sauce. It was considerably milder than I was expecting it to be so the sauce didn't overpower the moist sea bass as it literally melted in my mouth. Sharps also loves custard so he somehow manged to find space to fit in a dessert of fresh fruit salad with saffron custard (£6.50), which he thoroughly enjoyed and was surprised to find that the flavour of the saffron really came through.
Given its central location and portion sizes (the waitress had told us they were quite small but I think she was underestimating them) Carom is pretty good value for money, making it a real hidden gem when it comes to reasonably priced Indian food in Soho. The service was also spot on too. The staff were attentive, though not annoyingly so, and happy to answer any queries or find things out if they were unsure of anything themselves. It's been ages since I've genuinely enjoyed a good Indian meal and I can honestly say that for me, Carom is definitely the hottest new Indian restaurant in London.
You might also like