I couldn't resist it when Visit England offered me the chance to check out what Warwick Castle had got lined up for Halloween. Any excuse to try and scare myself silly! In all honesty, Warwick Castle was much more of a tourist type attraction than I was expecting. In my head I'd envisaged a similar setup to say the Tower of London, in that it's eerie by nature. Warwick Castle reminded me more of a day out at a theme park (hardly surprising given that it's operated by Merlin entertainment who run Alton Towers, Chessington, Thorpe Park to name but a few) but that's not to say it's not great family fun. There are a whole host of activities for kids including owl shows and a trebuchet (a massive catapult that shot out fire). And if they're fans of the BBC TV programme Merlin they'll absolutely love Merlin the show in the Dragon Tower which is new for 2011 (I did actually scream at one point which was very embarrassing as it wasn't even supposed to be frightening – I think I'd just psyched myself up and was a bit jumpy).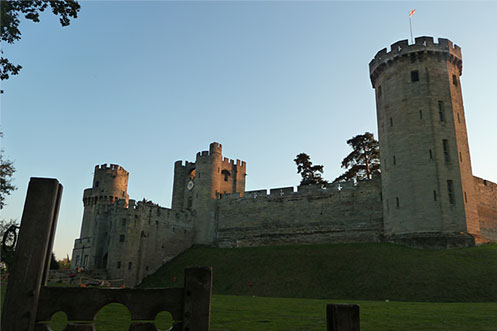 If, like me, you don't have kids, there's plenty of stuff for grown ups too, with special spooky goings on for Halloween (the grounds of Warwick Castle are suitably atmospheric with pumpkins and ghouls dotted around). The highlight of these for me was the brand-new attraction, Séance spirits unleashed which without giving too much away starts with a fake séance and involves walking through a house in the pitch black. It has a terrifying rating in the listings leaflet and while I wouldn't go that far, it did raise a view screams, though mainly from me and my friend Mark as we were verging on hysteria at the anticipation of what may be about to happen! And weirdly my mobile died as did my friend Yolanda's iPad, despite them both being fully charged, while we were queuing up to go inside…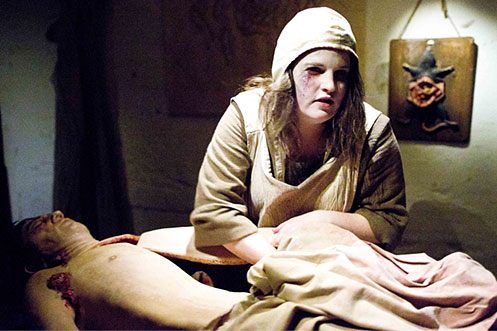 We'd also booked to go to the Halloween Dungeons After Dark, one of the feasts and banquets on offer which consists of a tour of the castle dungeon's gruesome history, followed by a three course meal with unlimited wine, beer and soft drinks and live entertainment. To kick the evening off we were taken round Warwick Castle dungeons by various people in costume, who tried (successfully) to freak us out by telling us horrible stories and demonstrating various implements used for torture (we subsequently had a lengthy discussion as to whether it would be worse to lose your tongue or your private parts if you were a man).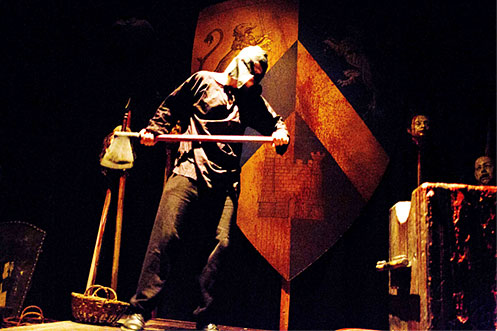 The format and script is pretty similar to the one at the London Dungeons (again this makes sense as it's operated by the same company) just on a smaller scale with plenty of screaming sound effects and the dulcid chanting monks. But I've been to the London Dungeons twice (I enjoyed it so much I had to go back and take Sharps) and still jumped even though I had an idea of what might be coming! However, what you can't do at the London attraction is have dinner afterwards, and for me this is what makes the experience at Warwick Castle a real hidden gem. There were 12 of us in our group, and we were joined for dinner by tables who were celebrating birthdays, a hen party and people who just fancied doing something a little bit different. As bizarre as it sounds, dining in a dungeon is a great night out.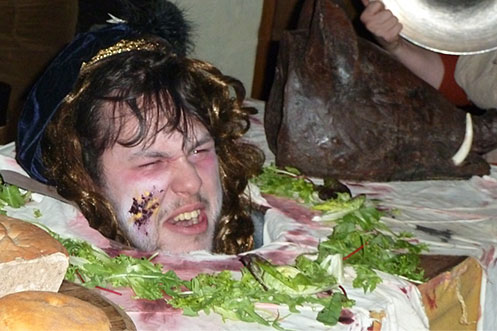 We had a Halloween-themed menu, complete with a dessert of toffee apples and ice cream, and while the food wasn't five-star I still enjoyed my dungeons gruel (roast pumpkin, pulse and bean green curry with coriander and coconut sticky maggot rice). But let's face it, you're not really going for the food, it's more about the atmosphere and overall experience which was great fun. Some people had gone to loads of effort and really dressed up for the evening and the staff in costume were hilarious. At one point they were dancing to Sex on Fire and Thriller, (random but entertaining) as well as dragging unsuspecting members of the audience up on stage to take part in various games.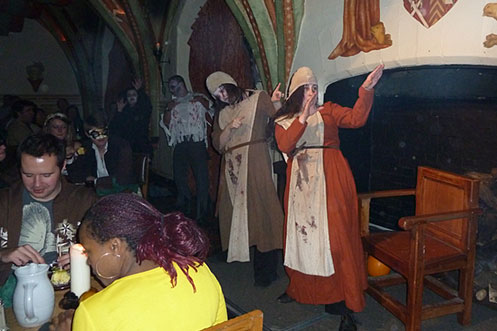 Rather than head straight back to London we had arranged an overnight stay in Warwick. The next day, all feeling a little worse for wear, we went for Sunday lunch at the Rose and Crown in Warwick. I was delighted to discover that it's the sister pub of the one Elm in Stratford (you'll understand why if you click here to read my blog post on the best Sunday lunch in Stratford).
If you can't make it to Warwick for Halloween, don't worry. The castle also organises Dungeons After Dark events throughout the year so you needn't miss out. Whether you go for a Saturday night out, or make a weekend break out of it like we did, I can highly recommend dining in a dungeon –it'd be criminal not to.
You might also like