When I heard about a new Meatballs restaurant in Farringdon (funnily enough based around the concept of serving meatballs – the name is a bit of a giveaway) I was in two minds about whether to check it out. Meatballs remind me of home cooking when I was growing up. In fact I'm pretty sure it was being forced to eat them (along with various other forms of minced meat including meatloaf, meat pie, Shepherd's pie etc) when I was younger that turned me vegetarian. Sorry mum!
But as always my curiosity got the better of me. I was intrigued to find out if the humble meatball really could be made to be exciting. Plus as a non-meat eater I was interested to see how well the Meatballs restaurant catered for vegetarians.
Meatballs restaurant is housed at the Quality Chop House, near Exmouth Market, on Farringdon Road. It's a former Victorian working-class chop house and grade 2 listed building. This  means even the super cool fridges have been restored to their former glory as illustrated in the pic below. And the restaurant recently reopened after being closed for the last year or so. The brainchild of Hugh Fowler (the man behind Cafe Pasta and who also runs the Fire and Stone Pizza Company) he came up with the idea for the meatballs restaurant after a visit to The Meatball Shop in New York. With jazz playing in the background, the ambience was quite relaxed. This was in-keeping with the funky decor that reflects its history. The shop front has etched glass windows that still say 'Progressive Working Class Caterers', a chequered floor and wooden diner-style benches.
Aside from not eating meat I'm also not a huge fan of courgettes (yes I am the awkward one when I go out for dinner). I tend to find them quite bland and tasteless. Given the only vegetarian main dish on the menu at the Meatballs restaurant was courgettes balls (£3.95 per portion of three) I wasn't expecting too much. I was pleasantly surprised as they were actually very tasty. The three balls were falafel like in texture and served in a spicy and creamy tomatoey sauce which enhanced their flavour.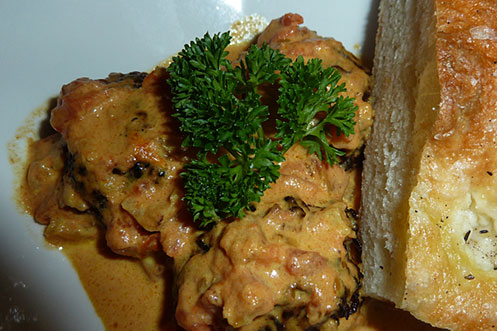 Sharps opted for the guest balls (the daily special at £4.95). These consisted of a bowl of mini beef meatballs with Gruyère floating in French onion soup. Likewise he enjoyed them, although he did say he couldn't really taste the cheese in them. And for carnivores there wasn't just beef to choose from as the menu also offered up a selection of lamb, pork with rosemary and chicken with caperberry sauce.
Rather then attempting to re-enact a scene from the Lady and the Tramp by ordering spaghetti, we plumped for sides of pearl barley risotto (£2.95) and egg parpadelle (£3.95) in a creamy sauce. This went well with our mains as it was a relatively mild sauce so didn't overpower them. But I was gutted when it came to dessert. I'd read on the Meatballs restaurant website that the special of the day was sticky toffee pudding. Sadly I discovered they had run out of it at lunchtime. To add insult to injury our very friendly waitress went on about how amazing it was.
As a result I was forced to settle for the lemon posset with shortbread (£4.50), which wasn't such a hardship after all as despite looking a tad uninspiring it was refreshing and quite light so ideal after our heavy meal. Sharps chose the chocolate brownie ice cream sandwich (£4.95), gooey brownies held together by vanilla ice cream, which was a little too rich for me but he had no such problem and wolfed it down in about 10 seconds.
Meatballs restaurant in Clerkenwell is not haute cuisine. But, like its predecessors, it does what it says on the tin and dishes up no-nonsense, wholesome comfort food. The restaurant is great value for money. Combined with its laid-back atmosphere and friendly service, Meatballs restaurant is a real London hidden gem.  Meatballs restaurant is the perfect place to come if you're on a budget, if you work locally and fancy something different for lunch, or for a quick and casual bite to eat with friends. And if anyone tells you any different, they're talking balls.
You might also like