With the Olympics hitting London in 2012, there's already a bit of a buzz surrounding Greenwich, given that it's hosting some of the events. And the newest Greenwich restaurant, 16″ West Brasserie is housed in part of the National Maritime Museum and located next to the Olympic Equestrian Course.
Bizarrely I've only ever been to Greenwich once when I lived in Peckham. It was for a weekend visit to Greenwich market. For some reason even though I was in South East London, Greenwich always seemed that bit far away. I've no idea why as nothing could be further from the truth! Likewise Sharps wasn't too happy when he found out the easiest way for us to get to Greenwich restaurant 16″ West Brasserie was by bus. But he changed his mind  once he discovered that Greenwich is in fact just a short bus ride from our flat in Forest Hill. And if you're coming to Greenwich from other parts of London it's equally as accessible by tube or the DLR.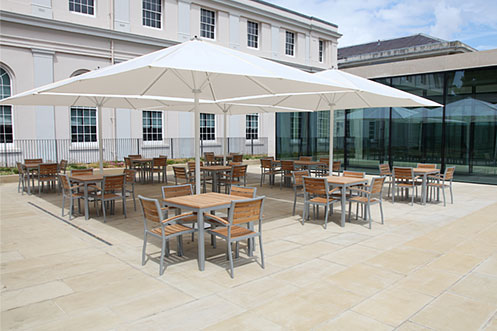 The location of Greenwich restaurant 16″ West Brasserie (which takes its name from its exact location 16 seconds West of the Greenwich Meridian Line) is ideal. We chose to take the scenic route through Greenwich Park, walking past the Royal Observatory to get to it. And despite being in the heart of Greenwich's tourist attractions, Greenwich restaurant 16″ West Brasserie is still a real hidden gem and relatively undiscovered. It took us a while to find the entrance). We went to this Greenwich restaurant on a Saturday night and were the only people dining there, apart from another table. But don't let the fact that it's quiet put you off . This Greenwich restaurant has only been open for just over a month and this bound to change once word gets out about the food here.
As usual I had a serious case of food envy which started when our first course arrived. I had a well presented and generous portion of potted hot smoked salmon (it was actual flakes of hot salmon as opposed to the cold kind I was expecting, though not in the slightest a bad thing).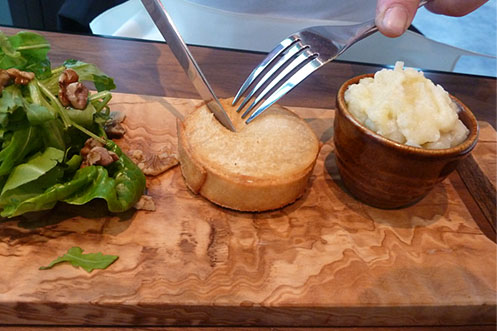 But it was Sharps' dish (that I thought sounded a bit dull) of goat's cheese, watercress and walnut salad and Cox's apple chutney (big chunks of apple that reminded me of the filling you get in an apple pie) that really stole the show. The cheese had a deliciously crisp casing with a soft centre that oozed out when you bit into it and the flavour combinations perfectly complimented each other.
Our main courses at this Greenwich restaurant were also a decent size.  Sharps chose the rib-eye steak with marinated portobello mushroom and bernaise sauce, cooked medium, exactly how he'd asked for it. I opted for grilled mackerel fillets with slightly sweet tasting carrot, onion and fennel. And the side of mashed potato was so creamy we were fighting over it like small children when the waiter wasn't looking.
Yet again Sharp' came up trumps when it came to pudding. My dessert of an individual lemon meringue pie was OK but his chocolate cheesecake (which tasted similar to a thick chocolatey moose) with caramelised orange and clotted cream ice cream was divine.
I'm pleased to have discovered that I don't have to travel far from home to find a restaurant that serves quality food. And  if you're looking to avoid the hustle and bustle of central London, dining at the contemporary Greenwich restaurant 16″ West Brasserie makes a great alternative. It's also a good place to meet for drinks. Overlooking Greenwich Park, the outdoor terrace is perfect for chilling out with a glass of wine and watching the world go by. So even if Team GB doesn't fare that well in the London 2012 Olympics, Greenwich will have still struck gold with its Greenwich restaurant 16″ West Brasserie.
You might also like