At the end of last year Sharps and I managed to scrape together the deposit to buy our very first property, a flat in Forest Hill, South East London. And although we were both incredibly excited at becoming homeowners for the first time it's taken us about six months to get round to begin to sort out what needs to be done to it! First on our checklist was getting our loft insulated – it's a loft conversion so the ceilings above the bedrooms have no form of insulation making it freezing in winter.
After consulting friends who work in the trade we realised our best option would be to insulate the loft spaces ourselves (i.e. get Sharps to do it). What we hadn't factored into the equation was the amount of crap, including fibreglass and wooden boards, that the previous owner had kindly disguised up there so we wouldn't notice it when we initially came round to view the flat. So before we could start laying the insulation we'd have to get rid of it.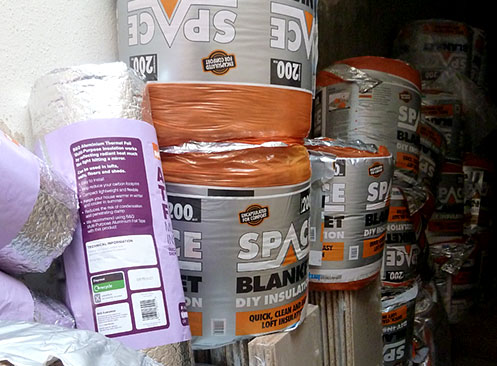 Here we came up against a bit of a snag. Neither of us can drive (shocking I know!) meaning we wouldn't be able to hire a van to dispose of the waste. Hiring a skip also seemed to be a bit of a hassle. But then I heard about a real hidden gem, AnyJunk (you may have seen them on the episode of The Apprentice where the contestants had to dispose of rubbish and to try and make a profit from it). AnyJunk is the UK's largest rubbish removal company and they offer a brilliant nationwide service.
AnyJunk operates a two-man van clearance and disposes of your rubbish for you. This saves you money on the cost of a skip and parking permits. You pay AnyJunk for the amount of space your rubbish will take up, as opposed to a flat rate for a fee, making it more economical. I'm always one for a bargain. And depending on what job you need doing AnyJunk can also load all of the rubbish and clean up afterwards. This is a total bonus especially if like me you're not one for heavy lifting. Plus, you know that all of your rubbish is being disposed of legally and responsibly. AnyJunk save around 79 per cent of the waste from landfill and where possible try to find a new home for it. AnyJunk work with charities including the British Heart Foundation. Booking with AnyJunk was straightforward and I was pretty impressed that the guys got the job done in about five minutes flat. If only I could book AnyJunk to clean the rest if our flat!
You might also like