I was invited to a press day hosted by the QVC shopping channel to show off their new product ranges. I had visions of twee Christmas-style knitted jumpers with animals on them, beauty products that smelled of rose and various arts and crafts type goods (I'm thinking back to an episode of The Apprentice a few years ago when they had to pick products to sell). So to say I was gobsmacked by what I actually saw was an understatement. The range of products QVC shopping has on offer is incredible. I spotted some real hidden gems. There was a funky teapot I desperately wanted for my kitchen, plus they had a whole host of luxury beauty products including L'Occitanae, Decleor, Bobbi Brown at a snip of the usual prices.
But the items that got me most excited were the QVC shopping channel's shoes. One of the QVC shopping channel presenters told me about a range of footwear, including heels, wedges, boots and sandals by Rockport that use something called adiPrene built-in Adidas technology to make them ultra comfy. As someone who never wears heels (due to the pain factor) I was intrigued to find out more. I checked the brand out on QVC's website and was amazed by how trendy some of them were too. Comfortable heels that looked fashionable? I had to find out if it was just fancy jargon that sounded too good to be true.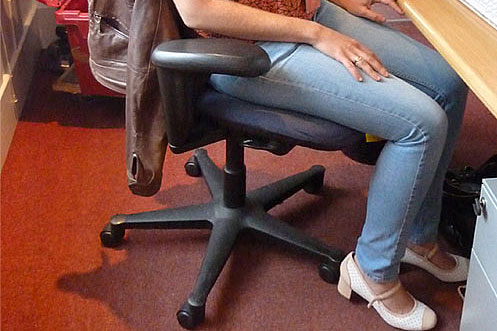 I opted to try out a really cute pair of beige/white patent Rockport Lazer Cut Heeled Mary Jane shoes – great teemed with jeans and ideal for the daytime or dressed up in the evening. When I put them on I couldn't believe just how comfy them were. The shoes practically moulded to the shape of my feet. This could be something to do with the inside heel shock absorption and the adiPrene. I road tested the Mary Janes in the office and people commented on how stylish they looked. The block heel was perfect as it gave me stability so I didn't have to worry about toppling over at any point! Plus, at £50.50 they're an absolute bargain.
That night I wore them out to an event at the Dalston Junction Rooms in East London. Again they went down well with the super cool crowd – showing you don't have to sacrifice comfort for style.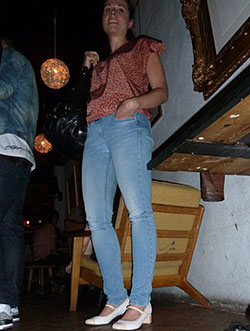 I also tried out a pair of on-trend coral Rockport Emily Wedge Sandals with a whopping (for me) 3in heel height. I was a bit more dubious about wearing the wedges, mainly due to the 3in height and my lack of co-ordination. Once again I was surprised to find them incredibly comfortable, it was almost like wearing my trainers.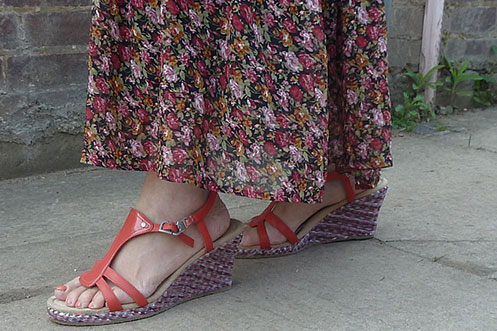 The only slight snag I found was in doing them up. The buckle was sort of a separate piece that had to be attached when I did up the shoe,  making it easy to loose when you're taking them off – so perhaps they would be better with a normal strap. And even Sharps, who doesn't usually notice these things, loved the really funky espadrille style with pink and purple colour in the wedge. Plus, at £59.16 (QVC are quite precise with their prices) these Rockport shoes on QVC shopping are a real hidden gem.
Having worn these heels from Rockport I'm definitely a convert. So I'm just off to log into QVC shopping's website to buy myself another pair…
You might also like