With summer (allegedly) upon us I was invited to go along to the Regent's Park open-air theatre, which has commenced it's new season for this year with Lord of the Flies (a blast from the past for me as I can just about recall studying it at GCSE). Hardly a hidden gem you might be thinking. But that's where you're wrong. I've lived in London for over 10 years and despite meaning to check out more of the open-air theatres the city has to offer it was the first time I'd ever been. So I'm sure I can't be the only one yet to discover the delights of London's most famous outdoor theatre, even though it's just on my doorstep?
Regents Park is a real gem in itself – nestled in the heart of central London it's the perfect place for a picnic, or if you're feeling particularly daring you can even rent a pedalo. It also makes a great day out for the family too. I remember coming on a family holiday to London when I was young (we were from Manchester so it was particularly exotic) and spent the day at London Zoo.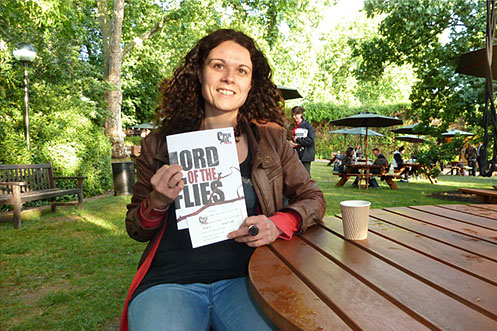 Tickets can be pricey, with premium seats at £46, but it's no more so than you'd expect to pay to see any other top London theatre production. You can always sit in the cheaper seats, which start from £19, and still get a decent view. And there are some discounts available on group bookings of 10 people or more, or if you book for two or more productions (The Beggar's Opera, Pericles and Crazy for You are also showing in the 2011 season). It's worth going along to see Lord of the Flies for the set alone and the young cast were brilliant, although I'm not sure the story itself translates too well into a stage production. The only down side is that there's no guarantee of good weather. But as long as you wrap up warm and take waterproof clothes just in case, the setting more than makes up for any grey skies.
London also has free open-air theatres too. The Scoop, located on the riverside by City Hall is my hidden gem. Last year I saw a refreshingly modern rendition of Macbeth by The Pantaloons, a theatre company made up of just five young actors who toured the country with their original take on Shakespeare's classic. Brilliant entertainment for kids and adults alike as there were some great one-liners and it also incorporated puppetry and live music. I've no doubt this year's line-up will be equally as good. It starts on 3 June with Palladini Productions who are performing Citiest of Cities. Scoop also hosts free music and film screenings throughout the summer so there's loads going on.
Just make sure you that you come armed with something comfy to sit on. Otherwise you may get a numb bum from the stone steps of the amphitheatre. Also don't forget something to stop you getting chilly if you opt for an evening performance, as is the case with any of the open-air theatres you might go to. And come armed with snack, or face being berated for your lack of preparation and having serious food envy of those around you clearly more organised with their picnics.
You might also like