During the week I received a press release inviting me to a free one-day festival called Onedayland, organised by The House of Fairy Tales and PLOT, a new eco-arts collective. I have to admit that I'd never heard of either of these organisations, and the prospect of going along to see their artist's studios or take part in kids' playshops, which may well be a fun day out for families, wasn't really doing it for me. That is, until I noticed that on one of the floors (the event was being held across five floors of a building in The City, London) they were giving away free furniture.
Having recently become a first-time buyer, and subsequently realising just how expensive even the most basic of furniture is, I persuaded Sharps that we should go along and at least take a look. Keen to bag a bargain, we got there just before the doors opened at midday. But, when we arrived, we discovered that the the furniture in question was in fact office furniture. Great if you've got lots of space and are looking for an ex-office large desk, but sadly our visions of free leather chairs and kitchen tables went right out of the window.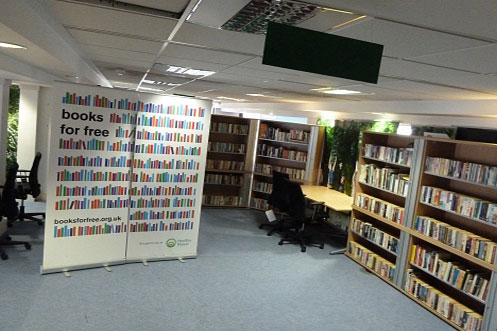 But far from being a wasted journey we discovered a real hidden gem. A charity called Healthy Planet, who were behind the giveaway, also save books from going to landfill, giving away free books. They run this brilliant initiative across the country, making money from businesses who allow the charity to use vacant office buildings until they have been rented out, saving the landlords money in tax relief. They get their free books from a variety of places including house clearances and charity shops (I didn't realise that charity shops only keep books for a certain amount of time as they get inundated).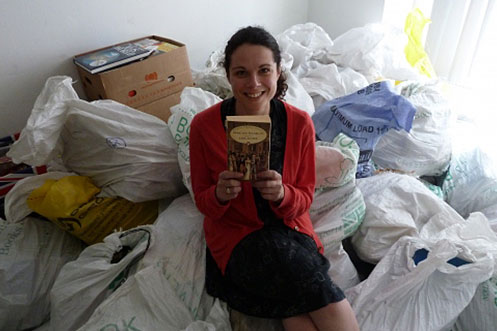 As you'd imagine from the rooms filled with postbags, the array of free books they have is amazing – everything from sci-fi and cookery to kids' books and chicklit, with a mix of contemporary writers and classic literature – with a variety of new and old books. Anyone can come along, it's free to get in, and Healthy Planet are keen to help the community, encouraging teacher and pupils to come along and kit out their schools. We were really excited by our finds and the Healthy Planet Books For Free shows it really is possible to get something for nothing, even today.
You might also like