Last month I was in Stratford-upon-Avon with my boyfriend Sharps (it's short for Shahpour) courtesy of Visit England. I was there on the lookout for some of Stratford's hidden gems, and discovered the best Sunday lunch in Stratford during the process. The last, and only, time I'd previously been to Shakespeare's birthplace was on a school trip years ago. I have a vague recollection of hanging out in the park by the River Avon before going to see an RSC production of a Midsummer Night's Dream, which I had studied for my English lit GCSE (I'm not that old!)
It goes without saying that a trip to the theatre is an absolute must if you're in Stratford. This time round I visited the newly reopened RSC to watch a production of King Lear. Usually my attention span is limited to a 25 minute episode of Corrie. But I was totally engrossed by the 3 ½ hour production, which culminated in a stage full of dead bodies as it's Shakespearean tragedy I'm not really giving away too much of the plot here!
A visit to Shakespeare's birthplace, located in the heart of the city centre on Henley Street is another place definitely worth checking out too if you're in Stratford.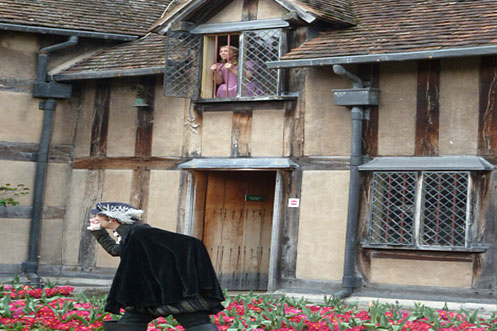 Despite, or perhaps because of, being a journalist with a love of writing I was gobsmacked to learn just how great an influence the world's most famous playwright had on the English language. Did you know for example that it was Shakespeare who coined the following words and phrases: obscene, addiction, bump, arouse, addiction, bedroom, laughing stock, fair play and send him packing.
But my find of the weekend was The One Elm in Stratford, a hidden gem of a gastro pub just down the road from Shakespeare's birthplace. My starter of cheesey leek, pea and chive pancakes with haddock was divine – and I don't even like pancakes (in case you haven't guessed I'm a pretty fussy eater)  – as was my main of sea bass.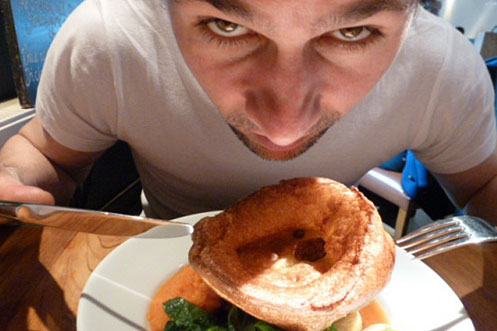 We were at The One Elm on a Sunday, which meant Sharps got to tuck into the best Sunday lunch in Stratford. His roast of the day was lamb. It came with all the trimmings, and quite possibly the biggest Yorkshire Pudding I've ever seen. Even as a non-meat eater I had a clear case of food envy at what was clearly the best Sunday lunch in Stratford.
You might also like